CAMELLIAS
The first camellias were planted outside along the various high walls of the Walled Garden. It was thought at the time that they needed the extra cold protection the walls afforded. They soon however outgrew the height of the wall and flourished proving that planting anywhere in the woodland gave perfect conditions. Quite a few of these original 1840's Camellia japonica plants still survive after being repeatedly cutback over the years and have developed tree like trunks at the base. They are some of the oldest Camellia plants grown outside in the UK, proving the hardiness and the durability of the Genus.
Miss Gillian Carlyon loved camellias and started a hybridising programme in the 1960's using some of these old japonica camellias and crossing them with Camellia spp. saluenensis and cuspidata. She was at the forefront of camellia breeding at the time and was recognised by the RHS who presented her with the Cory Cup for the Camellia Jenefer Carlyon. About twenty or so were named and can be see throughout the top half of the garden.
Recently Tom Hudson has added to the camellia picture in the garden with a species collection. The camellia spp. are centred around southern China and North Vietnam at relatively low elevations. Notwithstanding this many are now flourishing outside and considering their origins, they are proving to be resistant to all but the toughest of winters; and there are now approximately 50 camellia spp. happily growing outside at Tregrehan. Many are scented, some have interesting coloured bark and all show different shaped and sized leaves which provide much year round interest in the natural conditions of the woodland.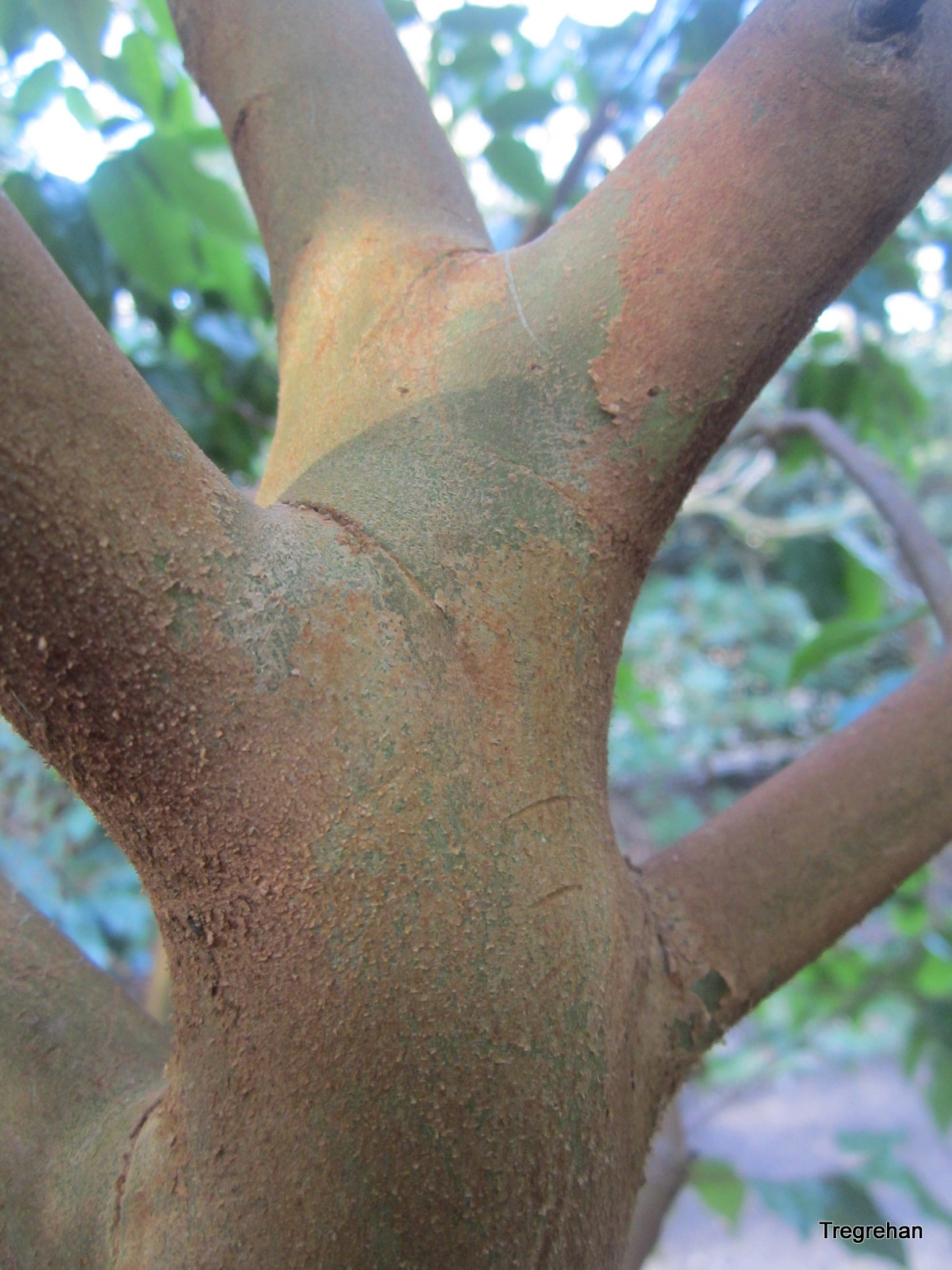 Camellia trichocarpa bark
Camellia Cornish Spring. Bred at Tregrehan by Miss OGG Carlyon
Camellia Jenefer Carlyon. Winner of the RHS Reginald Cory Cup.
Bred By Miss OGG Carlyon at Tregrehan.